Discover hidden treasures at Hong Kong Golf & Tennis Academy – the city's best-kept secret in the tropical heart of Sai Kung. Surrounded by mountains and sea, HKGTA allows you to uncover new depths in yourself with exclusive access to world-class golf and tennis training, sports, wellness, lifestyle, dining and accommodation, creating the perfect environment to bond with family, explore interests, be a part of a community and see the world in a brand-new light. Greatness needs a place to thrive – that place is Hong Kong Golf & Tennis Academy.
A legacy of greatness
Hong Kong Golf & Tennis Academy is a holistic destination in Hong Kong, uniquely bringing together world-leading sports and wellness partners to give Patrons a space to pursue a balanced and active lifestyle as well as sporting excellence. Complementing our renowned golf and tennis resources are the exceptional grounds, bespoke facilities and unparalleled personal service that inspire the highest standard of artisanal living at the Academy.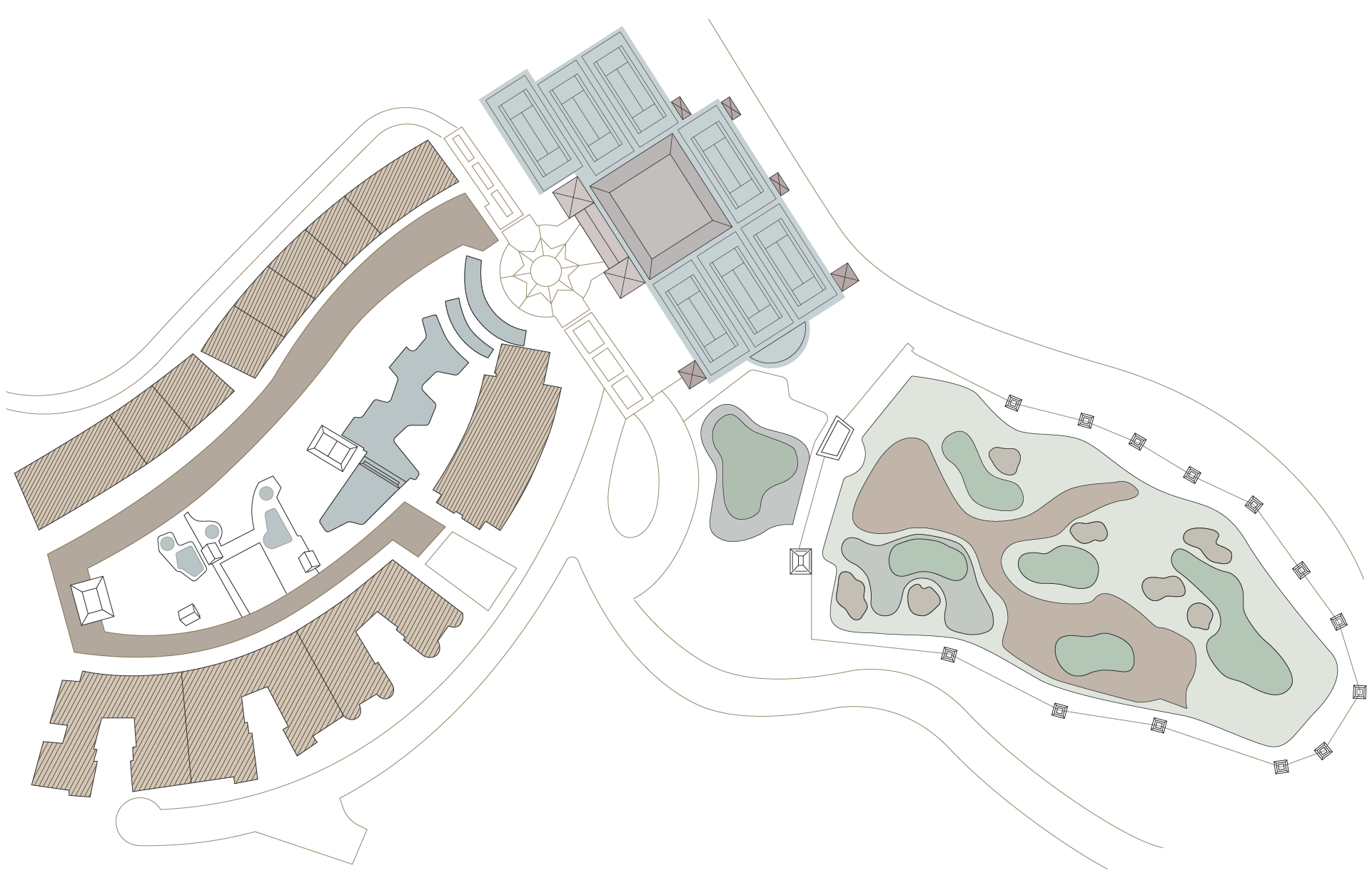 Sports House
Your HKGTA journey begins in this beautiful Mediterranean-inspired structure, housing not just our incredible sports resources, but also dining, recreational and social facilities.
Golf
Play a round in our Nicklaus-designed HKGTA Short-Game Course, or work on your game at any of the hitting stations, our Topgolf Swing Suite and climate-controlled coaching studios.
Fan Guan
Cantonese cuisine at its most delicious, treat yourself to your favourite dishes at Fan Guan with a delectable modern twist.
Academy Lounge
The Academy Lounge's classic British touch makes it the ideal rest stop with a wide selection of premium drinks and spirits.
Tennis
Enjoy a game of tennis, whether in our scenic outdoor tennis courts, ITF-standard plexipave Australian Open indoor court or even the two mini tennis courts.
Kids Zone
Open the door to a world of fun and learning at HKGTA, with our Kids Academy guiding children to become Picture Smart, Body Smart, Music Smart, People Smart, Self Smart, Word Smart, Maths Smart and Nature Smart.
The Court and The Armoury
A big fan of the outdoors? Enjoy the fresh air as you work out at the Armoury, our outdoor gym, or play a game of basketball or badminton at the Court, our new multifunctional space.
Cafeteria
Serving nutritious, comfort food, the Cafeteria is our family-friendly go-to for a casual al fresco meal by the pool.
Swimming Pools
In addition to the 25-metre indoor heated pool, our outdoor swimming pools transport you to tropical paradise with beautiful palms, aquamarine water and bright sunshine.
Accommodation
The unique selection of contemporary luxury accommodations at HKGTA ensure you and your family can fully maximise your time with us.
Academy Library
A picturesque escape from the excitement and hustle of life, surrender yourself to a moment of peace and quietude at the Academy Library.
Wellness
A sanctuary for the body, mind and soul, wellness is an essential part of the HKGTA experience with our breadth of relaxation treatments and wellness experiences.
Gastronomy Lab
Be inspired by our innovative Gastronomy Lab and create special moments with family, friends and the HKGTA Patron community.
Sai Kung Town
The nearby picturesque Sai Kung Town is brimming with life, great food and drinks, natural adventures, entertainment and seaside delights.
Mountainside
A treat for hikers and nature lovers, HKGTA is surrounded by some of Hong Kong's most beautiful mountains, inviting you to explore another side of the city.