Meet The Aces Introducing The Academy's Tennis Dream Team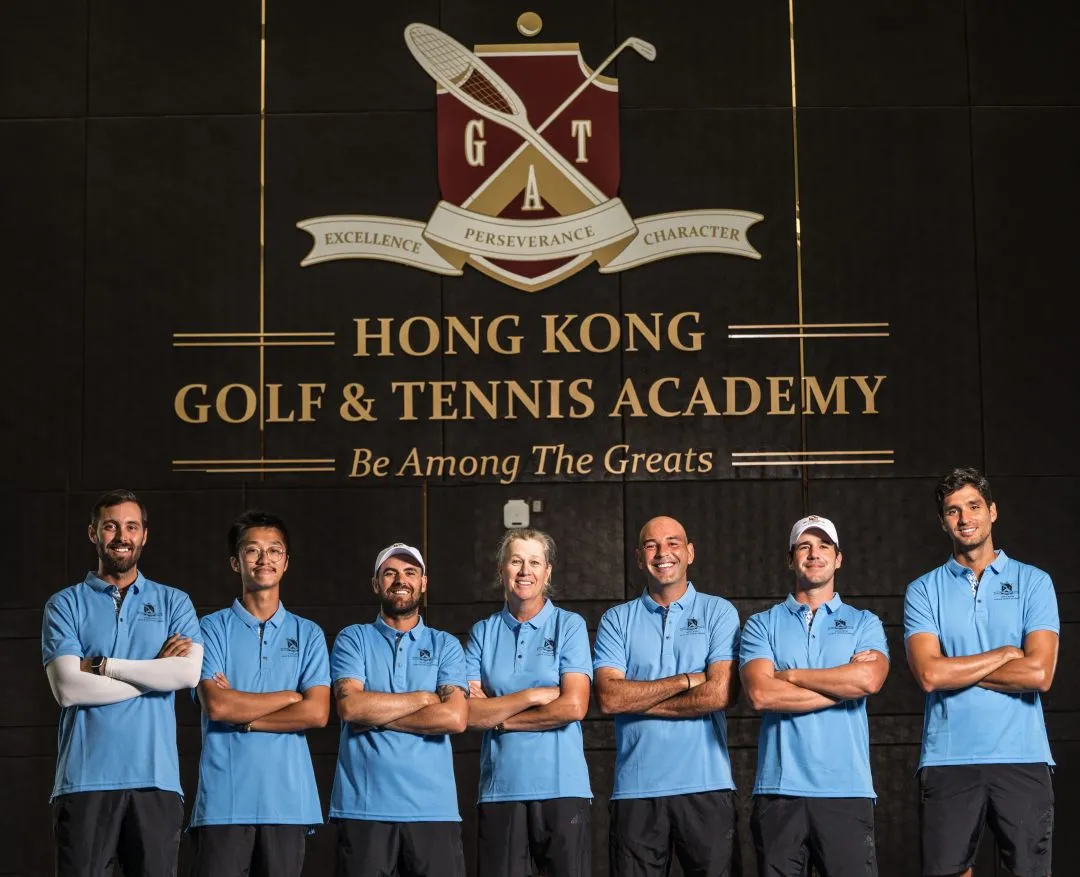 It's almost too obvious to say that HKGTA takes tennis seriously, but the extent to which The Academy goes to sustain its passion and professionalism for the game has more to it than meets the eye. This month, we showcase our lineup of coaches from across the world coming together to build a programme to serve patrons of all ages and levels.
Our Partner: PacificPine Sports
PacificPine Sports is a sporting academy offering tennis, golf, basketball and football training, in partnership with sports industry leaders. PacificPine is dedicated to developing the next generation of sporting talent by delivering access to accredited coaching programmes, paving the way to success through the 360-degree integration of both athletic and personal development.
Anne Aallonen: Director of Tennis
Anne is a former WTA professional who played on WTA and ITF tours for over a decade, achieving career high WTA rankings of 179 in singles and 116 in doubles. Based in Germany, she was coached by one of the world's top tennis coaches Niki Pilic. Her extraordinary career saw her compete at both Wimbledon and the French Open, playing in over 40 countries and averaging 30 international tournaments a year.
Tapping into her talents to train others, Anne learned her coaching skills from one of the world's all-time greatest tennis coaches – the legendary, late Bob Brett. She has now been training players professionally for over 30 years and has served as Women's Head Coach at the Hong Kong Tennis Association and Head of Junior Development and Elite Juniors at the Hong Kong Ladies Recreation Club.
Anne has coached many elite-level international players, including WTA top 50 Finnish player Emma Laine and Tong Ka Po, Hong Kong's best-performing WTA player who was ranked 236 in singles and 102 in ITF world juniors. Other former students include several ITF Junior players, including 274-ranked Michael Frick, 475-ranked Christian Frick and 777-ranked Oskari Eerola.
Pepe Molet: Lead Tennis Coach
Prior to coaching, Pepe enjoyed an extensive career playing tennis as a junior and professional at international level, as well as playing NCAA tennis at Concordia College in New York. As a certified coach with the United States Professional Tennis Association and Professional Tennis Registry, Pepe has also worked for various clubs and academies in Barcelona, New York, Shanghai and Turkey.
Pepe is also a former Performance Coach with the Hong Kong Tennis Association, and has helped members of the National Squad Team and Elite Development programme players elevate their game through a holistic training system with state-of-the-art technology. Now HKGTA's Lead Tennis Instructor, he uses his expertise to specialise in youth player development and performance in both singles and doubles.
David Souto: Lead Tennis Coach
A former top ten junior tennis player, David's remarkable professional tennis career included winning 17 ITF titles, playing at all four Grand Slams, representing Venezuela at the Davis Cup for six years, and achieving a career high ATP singles ranking of 208.
After his retirement at the age of 23, David embarked on a career in coaching. He initially worked Venezuela's top junior players as Head Tennis Coach of the Venezuelan Olympic Committee, before returning to the ATP circuit as a travel coach to 166-ranked player Agustin Velotti.
David joined HKGTA as Lead Tennis Coach in January 2019. Under his guidance, two of the Academy's High Performance players qualified for the Junior Australian Open 2020, becoming the first ever HKGTA players to compete at a Grand Slam event.
Damian Gayo Lorenzo: Lead Tennis Coach
Tennis has been in Damian's blood ever since he first took up the racquet in early childhood, with him going on to achieve great success, first as a professional player and subsequently as a highly respected tennis coach.
Holding the Spanish Tennis Federation Coaching Development Scheme's highest honours, some of Damian's illustrious 15-year training career highlights include working with international-calibre players on the ITF and ATP circuits, and serving as Head Coach at the legendary Sanchez-Casal Tennis Academy in his native Spain.
Damian specialises in training HKGTA's younger patrons, with the aim of nurturing future champions. His ultimate goal at HKGTA is to produce the first top 100 player both born and fully-trained in Asia.
Miguel Cicenia: Lead Tennis Coach
Miguel was ranked among the world's top 100 as a junior player, before achieving rankings of 671 in the ATP singles and 636 in doubles as a professional. He also won several titles that earned him the right to represent Venezuela at the Davis Cup.
After an early retirement at the age of 22, Miguel devoted himself to his studies and coaching career, gaining a degree in Journalism while serving as High Performance Director at the Venezuelan Tennis Federation. He then moved to London to complete a masters in Sports Journalism at St Mary's University, while working at the renowned Roehampton Tennis Club and Love Tennis Academy.
As Lead Tennis Coach, Miguel is passionate about helping players of all ages and abilities to improve their game, master the sport and believe in themselves, with the ultimate dream of developing a world-class player right here at HKGTA.
Mario Saiz Corsin: Certified Tennis Coach
Ranked among Spain's top 300 tennis players before he turned his focus to coaching, Mario has been awarded the title of National Teacher by the Spanish Board of Professional Tennis, the European Registry of Tennis Professionals and the International Coaches Institute.
A highly skilled coach who works enthusiastically to improve a players' game at any level, Mario is also certified in Mental Toughness via a programme developed by world-renowned performance psychologist and co-founder of the Human Performance Institute, Dr Jim Loehr.
This commitment to holistic tennis development gives Mario the tools to improve any aspect of our patrons' performance and game – both physically and mentally – in order to help them achieve their full potential, on and off the court.
Oscar Leung Tsz Him: Certified Tennis Coach
A graduate of the renowned Australian Tennis Federation, Oscar is a confident and knowledgeable coach who is dedicated to developing tennis players at all levels here at HKGTA.
British-born Oscar was hand-selected through Tennis Academy Hong Kong's Talent Identification Programme for young coaches, which launched locally in 2015. Ever since, he has been fully committed to improving as a coach by expanding his knowledge and skills through continued education.
Aiming beyond fully certified coach status, Oscar's international background and cross-cultural upbringing has given him a strong foundation for developing promising young patrons into the elite players of the future.
One of our major goals this year is to enhance the quality of our group classes, adhering to a more concentrated coach-to-student ratio. We ask for your kind consideration that on the day ad-hoc enrolment will not be accepted if the group class is already at capacity. Thank you for your understanding.
For enrolment, enquiries and class availability in advance, please contact our Programme Team at programs@hkgta.com or 3959 0044.